The asset management model found in the ISO 55001 standard – among many other topics it deals with – proposes the management of companies based on processes aligned with the Plan, Do, Check, Act (PDCA) model. Each process must incorporate risk management and must be aligned with the business' objectives, as these are key elements for sustainability and systemic work.
This book introduces the Spare Parts Inventory Management process aligned with the required practices for asset management. This allows companies to establish a systemic process for managing their spare parts, considering:
The risk level assumed by either its unavailability or availability.
The reliability models established for the productive assets where such spare parts are required.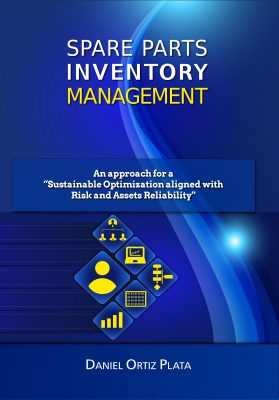 Spare Parts Inventory Management
An approach for a "Sustainable Optimization aligned with Risk and Assets Reliability"
Author: Daniel Ortiz Plata
Release Year: 2020
Language: English
Price: US$ 30.00
Format: Digital – PDF (.pdf)
NOTE: After the payment, you'll be redirected to a form to let us know the email address where you'd like to receive the book.
In case there's any trouble sending the form, we'll try to contact you in order to send you the book. Nevertheless, you can use the contact page to send any inquiries. (The contact page is currently in Spanish, but you're welcome to write in english)
Thanks.
Table of Contents
Prologue
SECTION I – Searching for the best model for Spare Parts Inventory Management

Inventory Necessities: Introduction
Impact of Spare Parts on Economic Results
Key definitions
The Roots of Inventories Management
Inventory Strategies by Type of Material
Business process Systemic Management Model, BPSM
Risk Management Model for the Decision Making Process in Spare Parts
Inventory
Effects of the procurement process in Spare Parts Inventory Management:
Models Integration
Knowledge Management

SECTION II – Methods: Practices for Policy and Procedures

Inventory Policy
Cataloguing Procedure
Planning Procedure
Replenishment Procedure
Storage Management Procedure
Inventory Counting Procedure
Optimization Procedure
Overstock Disposing Procedure

SECTION III – Management Assurance and Control

Work Plans
Performance Indicators
Monitoring and Verification Meetings